Meet the Team
Dr. Daniel Turack D.C., M.S.H.N.
Dr. Daniel Turack D.C., M.S.H.N, is a Chiropractor and Nutritionist that has a deep interest in the health of the human body. He has extensive post graduate training in Manual therapy techniques including soft tissue diagnosis and treatment, functional movement assessment, rehabilitation, as well as functional nutrition, detoxification and lab diagnostic work. When treating patients, Dr. Dan takes great pride in their whole body health as well as their families. He will work with you to establish an appropriate course of treatment and clearly defined goals that will track your progress throughout care. Dr. Dan has a special interest in amateur and professional athletes, and works with them to optimize their performance and extend their careers. In his free time, Dr. Dan enjoys Crossfit, exercising, snowboarding, wakeboarding, and anything that is outside and active.
Professional Resume:
2003-2007 University of Pittsburgh – Bachelor of Science in Biology (B.S.)
2007-2010 New York Chiropractic College – Doctor of Chiropractic (D.C.)
2010-2012 University of Bridgeport – Masters of Science in Human Nutrition (M.S.H.N)
Extracurricular Seminars:
Restorative Breathing and core activation – May 2014
NeuroKinetic Therapy Level 1 – September 2013
Selective Functional Movement Assessment – March 2013
Functional and Kinetic Treatment with Rehab (FAKTR) – May 2010
Graston Technique Module 1 – September 2009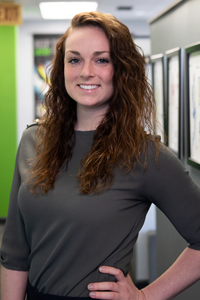 Dr. Emily Brady, D.C.
Dr. Emily Brady, D.C., earned her Doctorate of Chiropractic from Palmer College of Chiropractic, which is the founding college of chiropractic medicine. Dr. Emily became extremely passionate about Chiropractic after experiencing the benefits of treatment first hand while recovering from her own serious sports injuries. Enduring countless months of rehab and various types of doctor visits, she found the most specific and integrative care she received was from her chiropractor. Dr. Emily has sought out to do the same, and make a difference for the vast number of patients who go through health care systems that merely mask individual symptoms instead of evaluating the body as a whole. Whether a patient is working towards getting through a work day pain-free or competing at their highest level of physical fitness, Dr. Emily will evaluate and establish an appropriate care plan to ensure optimal health and wellness to each individual. Outside of the office, you can find Dr. Em on a soccer field, enjoying exercise, cheering on Pittsburgh sports teams, or getting active outdoors!
Professional Resume:
2011-2015 University of Pittsburgh – Bachelor of Science in Biology (B.S.)
2015-2018 Palmer College of Chiropractic – Doctor of Chiropractic (D.C.)
Extracurricular Seminars:
Charrette Extremity Adjusting – September 2018
Chiropractic Sports Sciences Symposium – April 2017
Motion Palpation Institute Seminar – February 2017
World Congress of Chiropractic Students – July 2017 & July 2018
Palmer Sports Council Elective – 2015-2018
Instrument Assisted Soft Tissue Method (IASTM) – November 2018
Stephanie Sholhead
Stephanie Sholhead, our trainer at Beat Fitness has a degree in Clinical Exercise Science from Ithaca College and her NASM Personal Training Certification. In addition, she has her CPR/ AED certification and a Brains and Balance Past 60 certification, which is a Silver Sneakers Flex program. She knew fitness and health were her passion after rowing in high school. Stephanie has been personal training and coaching for 5 years. She has worked with clients ranging from age 14 to 87. Stephanie understands that each member is different and needs to be met where they are ready to make changes. She understands the importance of an active lifestyle in health, wellness, mobility, strength, and aging. She rowed at Ithaca College and competed in the 2011 NCAA championships taking 4th team in Division III. When she is not at BEAT Fitness she can be found helping Dr. Dan in the office or on the Allegheny River in the evenings.